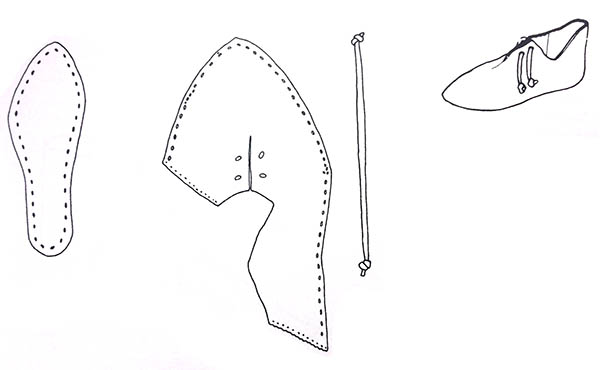 "Front-laced one-piece shoe (late 14th-century). There are no reinforcement stitches around the lace holes. Although the quarters and vamp are one continuous piece of leather, the quarters retain the high profile at the heel..." (Grew and de Neergaard, fig. 99, p. 65).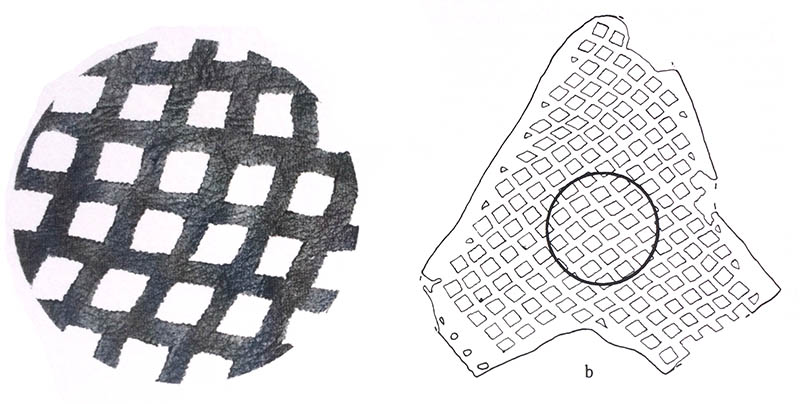 "Openwork decorations... Vamp fragments from side-laced ankle-shoes or boots... probably late 14th/early 15th-century..." (Grew and de Neergaard, fig. 99, p. 65). The close-up holes are about 1/4"x1/4". Other designs include simple circles, and fancier triangles and scalloped diamonds with interspersed X shapes.
Shoes with a Beekeeping Theme
Goal: Create shoes for a 14th-century lady beekeeper.
Steps
Research desired pattern.
Make pattern for sole: trace foot onto light cardboard.
Make pattern for upper: enclose socked foot in duct tape; mark opening and sole; cut on side seam to release foot; cut away sole and above opening; snip as needed to allow flattening; trace spread taped sock onto light cardboard.
Trace patterns onto leather with a scratch awl and cut pieces out with a sharp knife.
Punch and stamp uppers to make openwork honeycomb pattern and random bee decoration.
Stitch side seam using edge-to-edge alignment, keeping the needle within the thickness of the leather at the seam itself, and entering and exiting through the flesh side of the leather.
Stitch sole to upper with needle going through the flesh side of the sole and out through its edge, then through the hair side of the leather and back through the flesh side. (Both pieces are worked inside out.)
Soak completely sewn shoe in water for about ten minues, then turn it right-side out.
Add topband of thin, soft leather via binding stitch.
Punch holes and add a short lace for fastening.
Notes on the above process
The pattern: developed from Grew and de Neergaard, p. 65.
Openwork: created with a 1/2-inch hexagonal punch purchased on eBay. A conservative approach was taken, this being my first attempt, on how much leather to punch away, both for aethetics and for structural considerations. See Grew and de Neergaard, p. 79, for details on openwork.
Stamped bee designs: created with 6mm stamp purchased on Etsy. Not based on any known exemplar; stamped designs are known to be in period, i.e., mid/late 14th-century. (Grew and de Neergaard, p. 95).
Thread: 3-ply white linen purchased from Lithuania via eBay for uppers/sole; found by experiment to work well with boar-bristle needles when making waxed ends. Hand-waxed with beeswax, except on the ends where coad was applied. Topband black linen purchased at Ice Dragon.
Leather choices: uppers are Kodiak oil-tanned purchased from Tandy, 4-5oz. because it seems like a good weight based on my previous projects; soles: vegetable-tanned, 9-10oz. shoulders (as thick as possible and still turnable); topband: thin cattle leather scraps on hand.
Stitching: completely by hand and eye (no spacers); boar bristle needles; saddle stitched for uppers/sole, binding stitch for topband (Grew and de Neergaard, illustrated in the key on p. x and described and defined on p. 125). Also see Volken, p. 188, for illustrations of stitches and waxed ends, and Goubitz, pp. 35-38, for details. Boar bristles can be obtained via eBay seller 1fireforge in 10-, 25-, or 100g bundles.
Thoughts and observations for the next project
This is my first project to use waxed ends and linen thread entirely. A previous pair of children's shoes made with linen for its side seam gave out. I am concerned the threads will break. On the other hand, these shoes are meant for court, so perhaps they will not have the same stresses.
Although taking some time to learn and practice, I find that waxed ends are far easier on the hands and wrists than using needles and pliers, as necessary when using synthetic threads and leather that does not hold awl holes open for bristles. (This leather does, but that used on some of my previous projects does not.)
It will be interesting to try a smaller hexagonal stamp and use it more extensively over the vamp for comparison. I believe that will add to the elegance of the design.
Acknowledgements, resources, and references
Shoes and Pattens, 2nd ed., Grew, F. and M. de Neergaard, 2001, Boydell Press, Woodbridge, UK.
Archaeological Footwear, Volken, M., 2014, SPA Uitgevers, Zwolle, Netherlands.
Stepping Through Time, Goubitz, O., el al., 2007, SPA Uitgevers, Zwolle, Netherlands.
Hand rolled shoemaker's thread (including waxed ends): YouTube video (https://www.youtube.com/watch?v=jdEH-GOHKU0)
---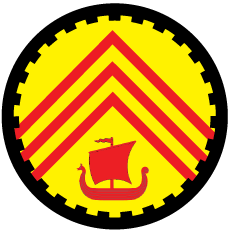 This documentation was created for the Æthelmearc Kingdom Arts & Sciences Championship, Oct. 28, 2017, A.S. 52, in the Shire of Nithgaard, by Robert of Ferness. More information can be found at ShoesByRobert.com for this pair and others.