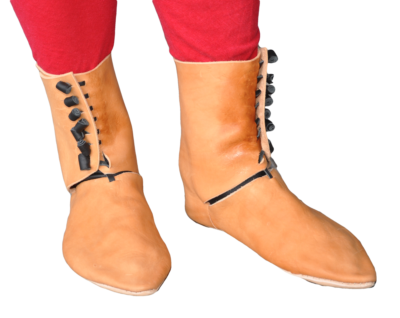 This is my second attempt at making some boots, or perhaps more correctly, high ankle shoes, depending on how the word "boots" is defined.
Like the first attempt at making this style of footwear, these use vegetable-tanned leather and a series of toggles to close them. However, this time I was able to incorporate a single centered toggle on top of the instep, one that goes through both side flaps.
It took me eight pattern attempts before getting one that worked. Apparently this kind of footwear always has separate pieces for the upper, but I'm not sure why. Perhaps it was simply thrifty use of the leather. Or perhaps one person stitched toggles to a separate piece that was attached to the main upper later. In any case, a one-piece upper seemed to work well and saved the time of joining multiple pieces with edge-to-edge stitches.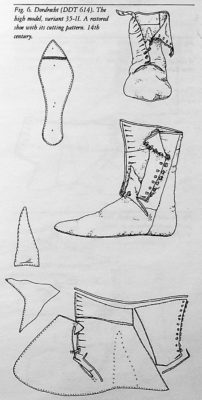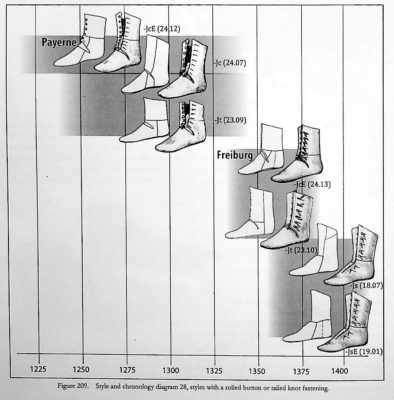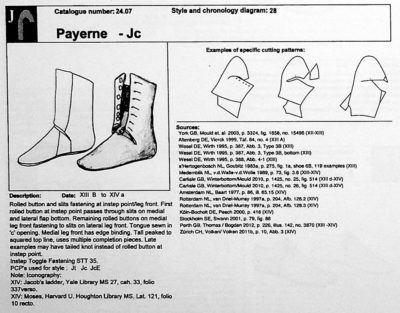 This pair of boots should have had a topband applied, but I ran out of time before they were to go on display. I will have to add one at a later date.
Last updated April 11, 2019.