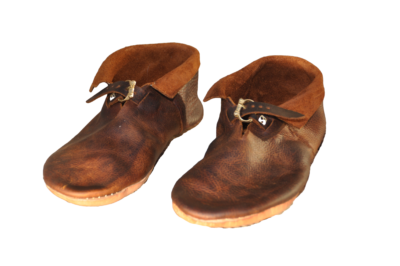 Buckles came into use during the 12th century. They offer great convenience for adjusting the fit of shoes and boots. Despite that, people used non-adjustable toggles for hundreds of years afterward. Buckles could be made of brass, iron, bronze, or pewter; these could be cast or formed of bent wire into many shapes and sizes, varying by time and place. Buckles can easily be re-used. They could be plated to seem more valuable as well. See Goubitz, Type 85, pp. 209-218, for additional details about the use of buckles in footwear.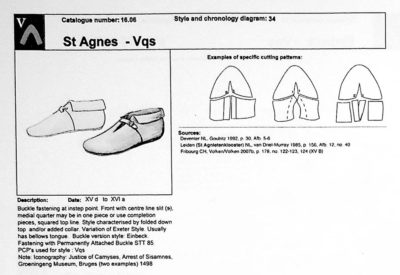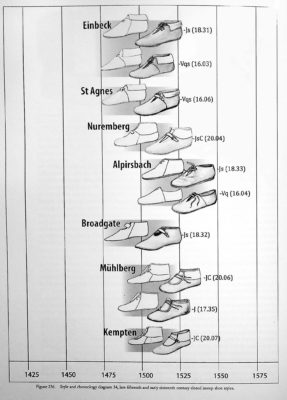 This shoe style, known as St. Agnes (Volken, p. 168), comes from the late 15th century. The collars could be worn up or down, with the inside leather contrasting the outside.
It's a new design for me: instead of a one-piece upper, it uses separate pieces for the vamp and quarters, thus it has two side seams instead of one. This particular style also appears to be more rounded on the toes than earlier ones.
It's straightforward to make: sew both side seams edge-to-edge, then attach the sole. Cut a slit down the instep and turn it. Lastly, sew on a buckle and strap through slits just in front of the turned-down collar.
Last updated April 11, 2019.