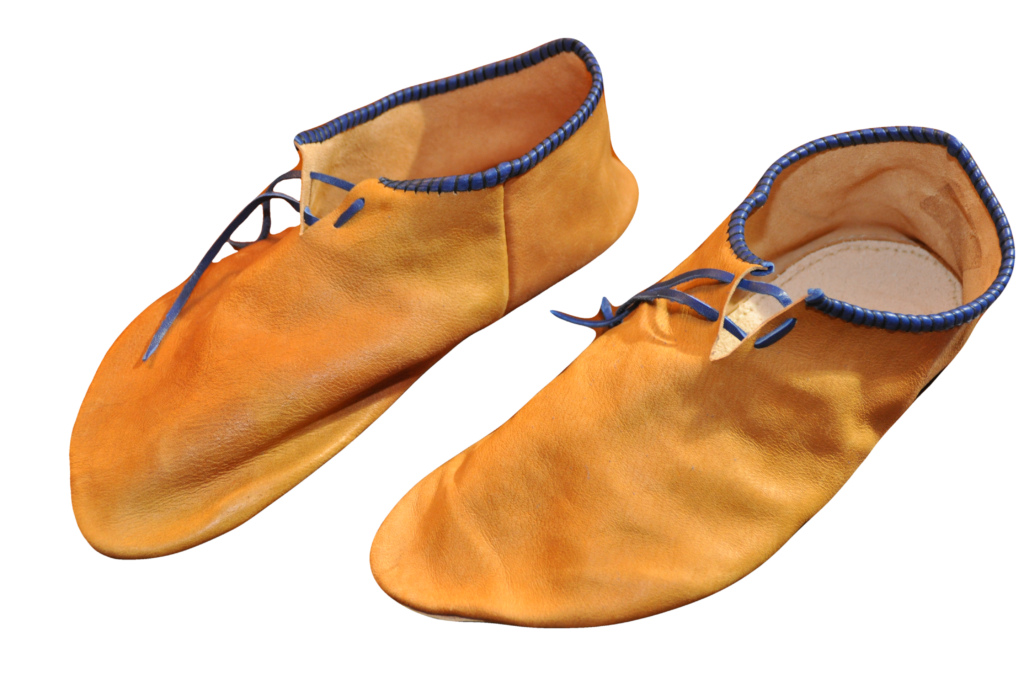 I know a potter. He needs shoes for his family, I need mugs for mine. Seems like a good trade!
We'll be using my 14th-century pattern, so there should be no issues with the design. My potter friend supplied the leather, and it's rather thinner than I've used before. So thin, in fact, that I won't even attempt to butt stitch the side seam on the uppers. I'll either whip stitch it, or saddle stitch it with the two pieces turned in. A seam allowance will be added either way.
We had cold, rainy first day of Daylight Saving Time, so the right shoe of the first pair of this project got done. It's my best stitching yet (most consistent in terms of straight lines and spacing), using metal needles and synthetic thread. This leather is much easier to work with than the stretchy black stuff used recently on the 10th-century shoes.
However, the upper didn't quite fit the sole, even after trimming a bit off the heel. Also the upper started to bunch up a bit near the ball, so I just let it overlap and not bunch, then trimmed it off with scissors. I also trimmed off the tiny overlap for the entire rest of the upper as well, a step suggested by someone at A&S Champs as a way to improve the wearer's comfort, although that has not been reported as an issue to me by anyone.
After turning the shoes, I whip-stitched on a narrow topband of blue leather (provided by the potter), using black synthetic thread. As you can see in the images, this results in a slight scalloping effect as mentioned by Grew and de Neergaard on page 125.
Although turning these shoes proved easy, the shiny finish on the leather disappeared after soaking them prior to turning. They didn't look as orange afterward, so much so that I'm thinking of making another pair but not allowing the uppers to soak - just the soles - in order to preserve the finish.
[Time passes...]
Having made a second pair and then turned it without soaking the upper, I'll report that the leather did keep its color and finish. However, some of the water did wick up from the sole into the upper, more than desired, but that's the end of this piece of hide. It may be possible to find some way to restore the finish with a coating or buffing.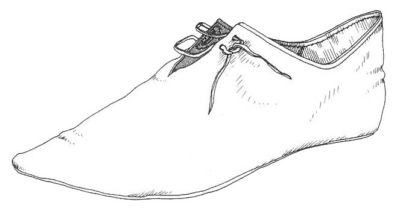 Last updated April 18, 2018.